Reduce the risk and complexity of managing your vulnerabilities
Systems and third-party applications are an inherent risk
Today, 99.96% of active vulnerabilities in corporate endpoints are related to missing updates which, if installed, would greatly prevent the security risk. Additionally, 86% of vulnerabilities are due to unpatched third-party applications such as Java, Adobe, Mozilla, Firefox, Chrome, Flash, and OpenOffice, among others. 
If this trend continues, by 2020, 99% of the vulnerabilities causing security incidents will be known exploits that could be easily avoided by being patched before the incident.
It's time to change this trend with Panda Patch Management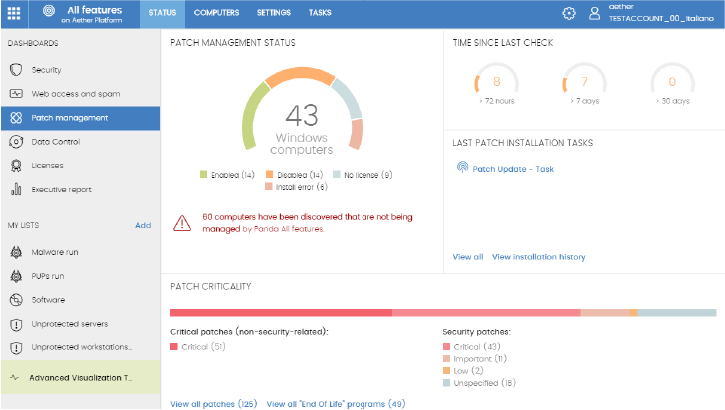 Panda Patch Management is a user-friendly solution for managing vulnerabilities of operating systems and third-party applications on Windows workstations and servers. It reduces risk while strengthening the prevention, containment and attack surface reduction capabilities of your organization.
The solution does not require the deployment of any new endpoint agents or management console as it is fully integrated in all of Panda Security's endpoint solutions. Plus, it provides centralized, real-time visibility into the security status of software vulnerabilities, missing patches, updates and unsupported (EOL3) software, inside and outside the corporate network, as well as easy-to-use and real-time tools for the entire patch management cycle: from discovery and planning to installation and monitoring.
The benefits of Patch Management
Panda Patch Management allows flexibility within a single user-friendly solution:
Audit, monitor and prioritize operating systems and application updates
The single-panel view offers centralized up-to-the-minute and aggregated visibility into the security status of the organization with regard to vulnerabilities, patches and pending updates of the systems and hundreds of applications.
Reduce operating costs.
- Panda Patch Management does not require the deployment or update of any new or existing endpoint agents, avoiding workstation and server overloads.
- Minimizes patching efforts as updates are launched remotely from the cloud-based console.
- Provides complete, unattended visibility into all vulnerabilities, pending updates and EOL3 applications immediately after activation.
Prevent incidents by reducing the attack surface created by software vulnerabilities
Handling patches and updates with easy-to-use, real-time management tools that enable organizations to get ahead of vulnerability exploitation attacks.
Comply with the accountability principle
Contemplated in many regulations (GDPR, HIPAA and PCI). It forces organizations to take the appropriate technical an organizational measures to ensure proper protection of the sensitive data under their control.
Contain and mitigate vulnerability exploitation attacks
With immediate updates, response time is minimized, containing and remediating attacks by pushing out patches immediately from the web console. Additionally, affected computers can be isolated from the rest of the network, preventing the attack from spreading.
Ready to give Patch Management a try?